Recently we have welcomed some of our furry friends in to Preschool.  Thank you to the families who have brought their precious pets in for a visit!
Vanilla the baby rat
Vanilla belongs to one of our teachers. Vanilla made several visits to Preschool last term and the children have loved observing him as he moves about his cage. Rats are very friendly little creatures and love to interact with people. In small groups the children gathered around the cage observing Vanilla, communicating with each other about what they were noticing, listening to each other and giggling with delight as Vanilla came closer to talk with them. This close interaction took lots of negotiation of space and provided an opportunity to learn about understanding each other's needs (i.e space) and point of view.
During another visit many children used Vanilla as inspiration for their art. Chairs, paper and markers were all brought over to the table and the children started creating drawings. Their observations were incredible as they noticed his features….long tail, ears, whiskers!! The children communicated their thoughts and ideas and listened to each other as well.
Spending time together observing Vanilla enabled children to make a contribution to the program by sharing their ideas and observations. It was also a very natural way to practice our conversational and communication skills, to express ourselves and to take an interest in the living world. Curiosity supported children to inquire, research, explore, generate and modify their working theories about the natural world.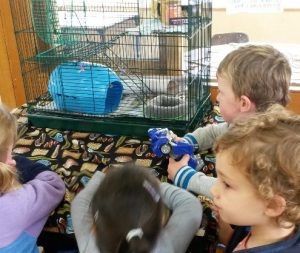 Ranger the rabbit
Ranger is a beautiful fluffy rabbit who came to Preschool to visit. Ranger was just delightful. He was calm and many children came together to gently stroke his soft fur. Gathered about the mat, the children offered Ranger grass and apples to nibble on. His little twitching mouth fascinated the children as they watched him eat.
Thank you so much to Ranger's whānau (Amelia and Alivia) for this wonderful visit – we all loved meeting Ranger!
Ram Ram the lamb
Ram Ram the lamb came to Preschool for a visit. Ram Ram was so friendly and ready to explore our environment. All the children were truly delighted to "see a lamb at Preschool" and the teachers loved our visitor too. After Ram Ram had explored the Preschool, it was time for his milk. With a tummy full of warm milk, Ram Ram was ready to explore some more!
A special thank you to Lilybelle and her whānau for sharing your special spring lamb with us.